The Best 5 LED Work Lights
When working on essential tasks, you need sufficient lighting in your work area, whether it is a professional work location like a construction site or a personal workspace like a garage or workshop., LED work lights are the way to go. It's no secret that LED work lights gradually displaces traditional alternatives like halogen, metal halide, and fluorescent lights. The LED models last longer, shine brighter, and eliminate the chances of making unnecessary mistakes during work. Most LED lights can also stay up to 20 years, so you don't have to worry about consistently replacing your bulbs.
There is a hoard of options available in the market, and each of the LEDs come with a ton of features and specification, selecting the right light for your needs can be a difficult decision. But there's good news for you. In the following guide, we have reviewed 5 Best LED Work Lights and broken down the different features to help you make an informed purchasing decision.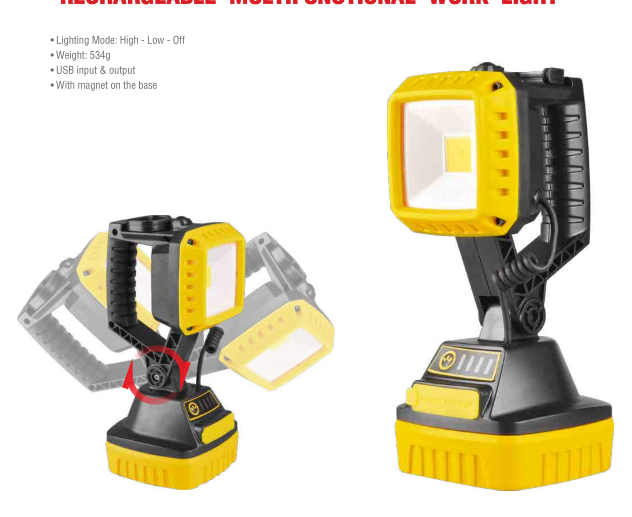 1.Rechargeable Multifunctional Work Light
(1)Led Rechargeable Work Light
Item No.: M03841
Led Rechargeable Work Light Supplied with super bright SMD LEDs, Impact-resistant PC lens glary free. A 360-degree circle without any dark spots, many people can use them to working at night. Led Rechargeable Work Light has an integrated handle. It can be detached from the tripod for increased portability. They're outdoor rated for temporary damp location use. These Retractable tripods for delivery and storage quickly, and Detachable shoulder strap for carrying, your Ideal Work Light for outdoor and indoor.
(2)Best Rechargeable Battery: Waterproof Work Light
Another popular floodlight unit is a rechargeable LED working light that provides four different modes - high, medium, low, and flashing. This machine is equipped with a large-capacity rechargeable lithium-ion battery that provides up to two hours of illumination at high brightness and can be charged to maintain a storage time of 18 months.
The lamp head is inclined 360 degrees. The can fold L-shaped unit into a flat shape to facilitate storage, which has even built-in USB ports that allow you to charge your mobile phone or other electronic devices. The lamp has a wall charger and a car charger. The buyer said that this is a well-designed product and is a masterpiece in the workshop.
(3)Best Telescopic Warning LED Light
If you constantly find yourself looking for a flashlight, the telescopic lamp will be very convenient. One end of this reel lamp is 30-foot wire; one end is 450 lumens LED lights; the lamp itself has a top suspension hook that rotates 360 degrees and detachable magnets, easy to install. Besides, there is a ground socket on the handle, which can also be used as an extension line. The device is equipped with reel suspension hardware, which the buyer has praised, and they call one of the best-LED shop lights they have used.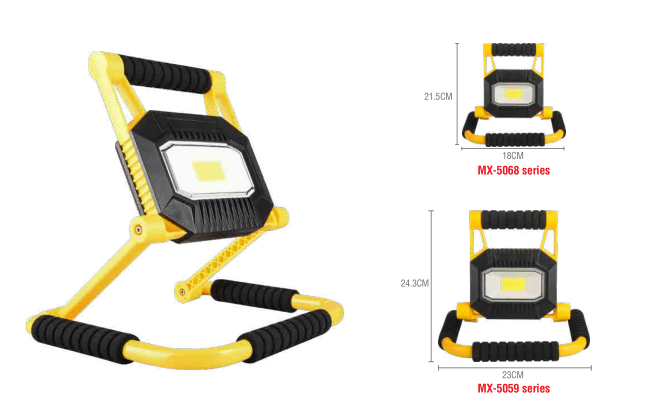 2.LED Work Light
(1)Led Trouble Light
The 5000LM 50W work light is another top, reliable product capable of dynamically reproducing classic halogen lamp models. It has some payable upgrades and impromptu and a significant-excellent function, making it stand out in other competitors.
Have a life of 30,000 hours or even longer! After further review, we believe that a part of this confidence comes from its advanced charging cable that can withstand sudden unstable and voltage fluctuations.
Most importantly, according to the US Department of Energy, use this intelligent model will also save nearly 80% of electricity consumption. That is because it has 100 new generation LED lights (almost 400W halogen bulbs), much less absorbed than the halogen lamp.
That brings us another impressive feature - an excellent heat dissipation system. Aluminum housings and cross-design constructive style help its uniform heat, thereby ensuring the product's service life.
(2)15W 24LED Spotlight
This multi-function portable work short is ideal for DIY workers, workers and campers; they have been looking for convenient and lightweight models. In discussing its user-friendliness, there are two aspects worth mentioning.
First, its function is sufficient to illuminate sizeable outdoor space. Second, it has a lightweight design that allows you to carry it anywhere easily.
(3)Spotlight Working Light Outdoor Camping Light
Need a super bright LED work light? This is your ideal choice. It has a 360-degree rotation design that is capable of lightning any space and waterproof. It is made of aluminum alloy shells, lightweight, portable and easy to carry. In an emergency, you can use two blue and two red flashing LEDs. Although it may be battery-powered, it has a powerful high-quality lithium battery and two USB ports to prevent the need to charge mobile devices.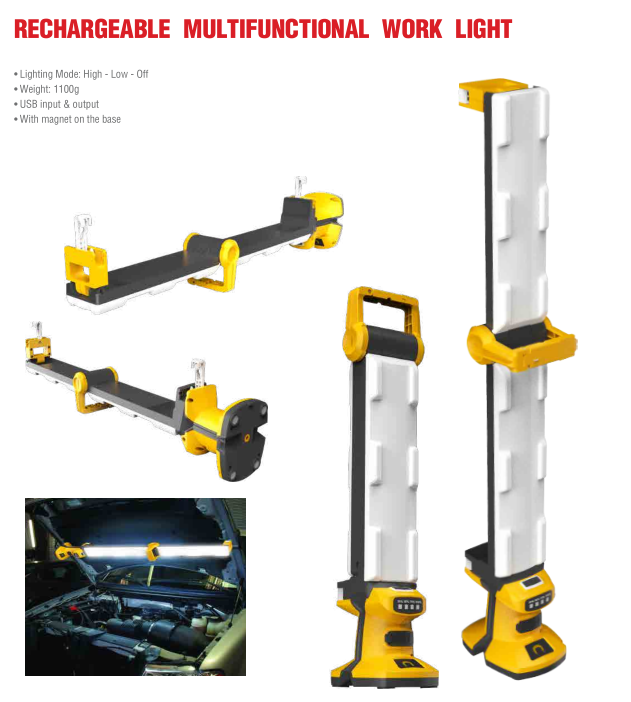 3.Portable Rechargeable Flood Light
Portable LED workshops are ideal for garage workshops, construction sites and home renovation items, small in size, easy to transport, and you can illuminate any space. Place them on the ground or table so you can see your project. Many versions are installed on a tripod and become a fully adjustable vertical light.
4.Stand Up Work Lights
For contractors, essential tools are LED work lights using brackets or tripods, which may be the best lighting for the workplace without power or evening work. You can also use these versatile, adjustable highlights to illuminate rooms or workshops to make large-scale projects such as painting.

5.Retractable Led Work Light
Due to their small size, LED working lights using scalable lines are an excellent choice when they need to carry, and you can also install this type of light on the wall or ceiling to provide a more lasting solution. There are more conveniences for longer extension lines and additional plugs. When not in use, the wire will retract into the housing for easy storage and prevent tripping.